Our Services
At Tasmulch we service a broad range of industries and needs statewide - from local government, civil organisations, mining, construction, agricultural industries landscaping businesses, residential upgrades and beyond.
Bulk Transport
For any project it's crucial to have products delivered fast and on time to meet agreed timelines. At Tasmulch we offer bulk transport services to deliver large scale product orders to your site, on time, Statewide. With a fleet of 10 trucks and trailers available for delivery, we'll never have you missing a project deadline. We know that choosing the right product for your project is essential for it's success, that's why we send out product samples to help you through the decision process. Our team will be able to guide you through the benefits to each product and find a solution that suits your specific needs and discuss everything from weight, colouring and product size.Speak with our team today about your delivery needs for a next day quote on your project.
Enquire about bulk transport
Statewide Delivery
Wherever your project site is based in Tasmania, we can get products to you - and fast. We know the building and construction industry, and we know how far developments and projects can take you. Whether you're based in a central city location, or developing in rural Tasmania - count on the Tasmulch team to deliver direct to your job site, all year round for all your large scale wholesale needs. Our Statewide delivery also offers flexible delivery options with the lifting of bulk bagged product direct onto site or even the second floor we can deliver on your product needs!
Enquire about delivery options
Mini Excavator Hire
We offer mini excavation hire solutions statewide for all of your development needs - this is a great way to get the job done, on time and on budget - with guided support from our team where required.
We offer 2.5 tonne and 3.5 tonne excavators for hire for all of your earthmoving needs, whether this be unloading products, trench digging, domestic construction such as slab preparation and more. The 2.5 tonne and 3.5 tonne excavator hire is a great option for the home handyman or civic contractor who may require a smaller machine for specific jobs, or simply while repairs are taking place to their existing equipment.
When leasing our 3.5 tonne excavator service, we offer package solution where one of our trained operators will be on-site to guide accuracy of use, guidance and know-how. This is a great solution for ay project requiring guidance and project management of car parks, driveways, exposed aggregate drains and new home development slab and foundation excavations.
Speak with the Tasmulch team today to explore our mini excavator hire options for your next project.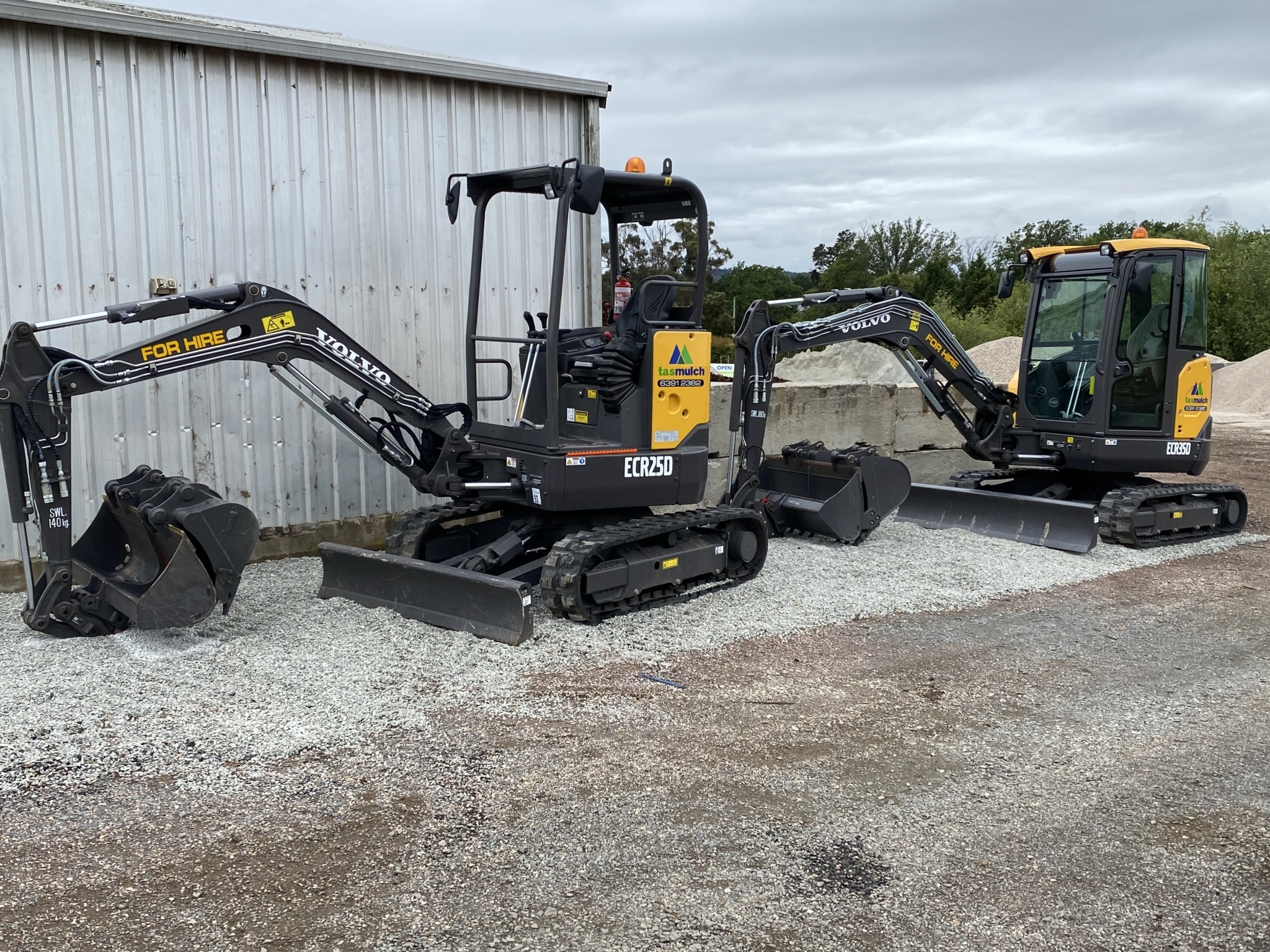 Enquire about hire options
Plant Nursery
Tasmulch offer a full range of flora and trees for sale at our nursery hub in Longford. Explore our Longford based range for your next gardening and landscaping needs. The TasMulch nursery is most renowned for its eclectic collection of rare and unique plants sourced from around Tasmania and Mainland Australia. Our knowledgeable team has established connections throughout the industry over 11 years, meaning we can source and find what you're looking for. Our range includes large Ornamental and feature trees to create that "wow!" factor you're seeking. Our nursery is wheelchair and walking frame friendly, allowing a pleasurable shopping experience for everyone. The TasMulch team are results driven and here to answer any questions you may have

Call the Tasmulch team today
Landscape Consulting
Experience matters and service counts, when you are planning your new garden, consider the TasMulch team. From design consult, to supply and install, we can help you.
Consulting and advising on Landscape choices in your garden is what we do best. Providing quick landscaping solutions for time sensitive projects! Need to get a house on the market? Ask us what to add to compliment your location.