Big ideas start here!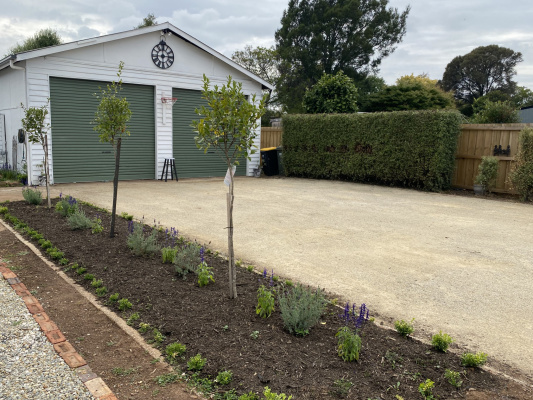 At TasMulch, we don't just do mulch, we do details! We can take your idea from small beginnings to final end "Wow!". Our staff have over 11 years experience in the industry, working closely with industry professionals to deliver results. Choosing a contractor to work with can sometimes be a daunting task, are they reputable, are they professional and experienced and can they deliver on the results you require. We can provide suggestions of suitably experienced operators and contractors that can help you take your job to the next level.
Pictured is a collaboration with local contracting firm Gavandy Contracting.The client originally came to the yard and wanted to resurface her current driveway, concerned with using decorative pebbles alone as it wouldn't give the compacted, stable finish they were seeking. An active family riding bikes called for a suitable, stable, finished surface. Ideas, colours and products were brainstormed, throwing around the ideas and looks to work out which one would best suit the clients requirements.With the clients desires for a finished, compacted surface, we suggested the use of our Birralee Path product. The 'Path' product choices compact well with irrigation and natural foot traffice, however also produce an incredibly refined finish when suitable compacted. Gavin worked closely with the client to bring their ideas to life. Excavating and removing the uneven, existing ironstone surface, to then spread, roll and finish the supplied product giving the desired result.
In the process of the project the client had also opted to use Birralee Cream in 20mm for the path adjacent to the house and our Euchi Mulch as a garden topdressing.
At TasMulch, our experienced team is results driven to achieve the best end result possible. Our industry experience helps you to have confidence in the choices you make to get the job done.