What hedge and where.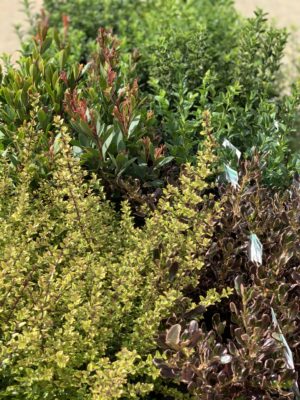 When it comes to hedging for you garden, the prospect of what to choose can certainly be overwhelming. The first choice you need to consider is if you wish to go formal or informal.
Formal hedging is appealing to the eye and can provide privacy from the next door neighbour, work effectively in reducing street noise and suitable as a wind break. Depending on what you choose to hedge with dictates the level of dedication it requires for maintenance. A faster growing bush requires more frequent pruning to maintain its body and to create a good screen. A slower growing option may be better suited for a smaller formal hedging situation, but will require less inputs. Formal hedging generally calls for the use of more hedge specific species like Pittosporum, Luma Apiculata, Photinia Robusta, traditional Buxus, Lonicera or even Lily Pilly for areas without frost.
Informal hedging is also a suitable option where you wish to add some texture, colour and depth to your garden without the requirement and commitment of the maintenance aspect. Informal hedging is much more relaxed as the name suggests and gives you much more choice with planting options. Natives; especially the likes of Leucadendrons, make exceptional informal hedge rows. Their general tolerance of most conditions once established make them suitable in most sub climates and environments. Other choices you can consider for an informal hedge included Hebes, Viburnum, Polygala, Olives and even Nandina varieties for lower borders. There are endless options that can be considered for informal hedging solutions.
Whatever your area, whatever your dilemma, let the team at TasMulch Longford guide you in helping make the right choice for you. Our experience in horticulture, landscape function and design combined with our knowledge of the local growing conditions means we can help you have confidence in the choice you make.